JAMIE GOSLING FOOTBALL ACADEMY
DOES YOUR CHILD WANT TO TAKE THEIR FOOTBALL GAME TO THE NEXT LEVEL?
They can get their kicks at
Jamie Gosling Football Academy! 
JGFA is a football up-skilling academy which offers a supportive environment for boys and girls aged five-16 to develop their game like never before.
Our experienced coaches, who come from a range of different football backgrounds, will work closely with your child to unleash their full potential which they can use on and off the pitch.
Whilst we have a huge focus on having fun and helping young ones discover the magic of playing football, your child will also learn;
Under 6's: the basic skills of football, correct technique and sportsmanship

Under 8's: the main components of football, a good first touch and finding a space

Under10's: enhancing and implementing skill and technique, decision making and communication

Under 12's: A more advanced level of training of decision making, communication, keeping possession of the ball and tricks of the trade

Under 16's: finding their position on the field, a team framework, and tweaking strengths and working on weaknesses (these include crossing / shooting, finishing, good communication, jockeying / defending, how to beat a player and passing).
ENROL TODAY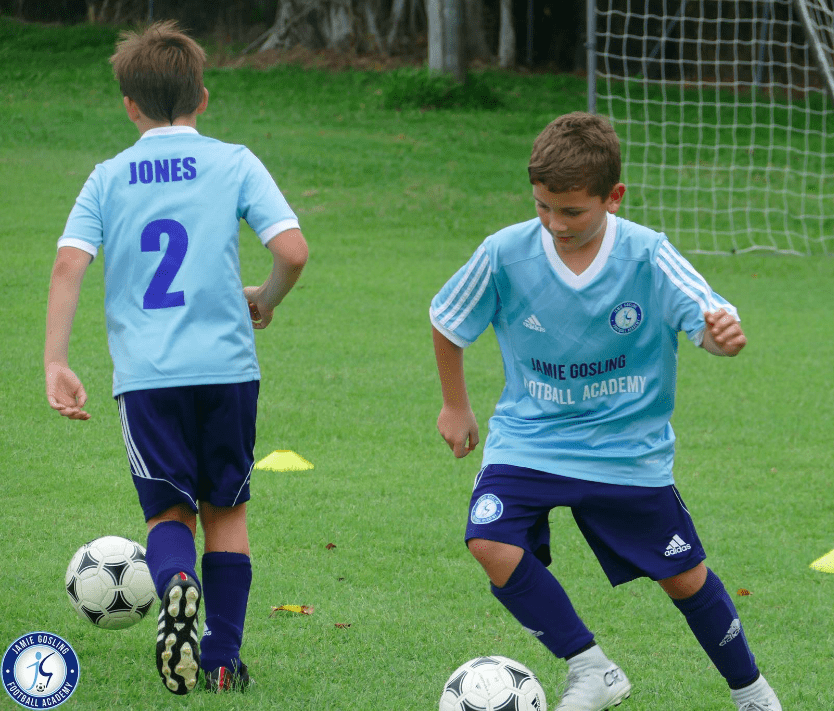 FREE

INTRODUCTION SESSION FOR JGFA
Come and see what all the fuss is about!
Monday or Friday 4pm-5pm (for 5 – 10 year olds) OR Monday 4.30pm-5.30pm or Friday 5.15pm-6.15pm (for 10-15 year olds)
ENROL TODAY
We understand that each family has different goals, commitments and budgets, so we have three packages to choose from to kickstart your students into the JGFA program.
*Please note that to become a part of the JGFA family, we ask that all academy players play in the same uniform. This is a one time purchase of $99 for personalised shirt, shorts, socks and drawstring bag.
PACKAGE 1
JGFA
$

25.00

per session

Pay as you go.

We understand life gets in  the way sometimes, if you can't make sessions regularly we offer "Pay as you go", although we recommend the term booking to get the full JGFA experience. 

ENROL NOW
PACKAGE 2
JGFA
$

215.00

for 10 weeks

1 x 1 hour session per week per term over 10 weeks

SPECIAL: $695 per year
Yearly discount when you commit to 4 terms, saving you almost the amount of a full term!

ENROL NOW
PACKAGE 3
JGFA
$

370.00

for 10 weeks

2 x 1 hour session per week per term over 10 weeks

SPECIAL: $1,150 per year
Yearly discount when you commit to 4 terms, saving you almost the amount of a full term!

ENROL NOW
"We became a part of the JGFA family 2.5 years ago when Jamie identified our son from an event he held at our sons after school care. Since then we have never looked back or doubted our decision for a moment. JGFA is the perfect blend of fun, fitness, competition, skill and FAMILY. The coaches are perfect role models for our youth, they take them under their wing, challenge them, support them and teach them skills.The positivity and growth that our sons have gained is worth everything to us and we have made friends that share the same interests and have become our family. For our sons to have mentors they idolise proves the dedication and devotion of the amazing JGFA coaches and staff."

Aidan and Carmen

JGFA Family
"I believe that being a part of the JGFA has given my children a lot more than just soccer skills and passion for the game. They have made connections outside of their school and their club. They have more confidence, both inside and outside of the game. They have learnt they can dream big, and whether that translates to success in sport or soccer or some other aspect of life doesn't really matter, it is a wonderful lesson to learn. I absolutely love watching the growth that JFGA training brings my children. "

Simone Titmarsh

JGFA Mother
"Our boys started with the Little Goslings 3 year ago and never looked back. We've seen them grow into the Academy with confidence, skill and love for the game. JGFA have all professional international coaches with an extremely kid-friendly manner. Our boys love attending the training sessions and are always last to leave. Their favourite part is the mini matches at the end of the sessions. We highly recommend the JGFA academy to others."

The Thibault Family

JGFA Family