JAMIE GOSLING
Owner & Director of Coaching
Jamie was born and raised in Bath, England where he played professionally in the Football League for a number of clubs, including Yeovil Town and Torquay United. The former FNQ Heat midfielder played alongside and against some greats of the game, notably playing alongside England and Southampton striker Charlie Austin, and playing against Liverpool in 2004 – Harry Kewell included – in a thrilling FA Cup tie with Yeovil. Jamie has also coached the likes of Scott Sinclair (Aston Villa, Manchester City, Swansea and Celtic).
Towards the latter end of his playing career, Jamie made the move across the world to showcase his talents here in Australia. After stints in New South Wales and Victoria, Jamie relocated up north and was instrumental in FNQ Heat's rise to fame. Prior to JGFA, Jamie was FNQ Heat's Community Development Officer, delivering junior coaching across clubs and schools, and becoming widely regarded as the region's leading youth football development coach.

 0450 161 826   

 [email protected]  


SANDER MUSKEE
Operations Manager & Senior Coach
Sander (rhymes with thunder), comes all the way from the Netherlands where he spent most of his life with a ball at his feet. Beginning his coaching career in 1990 for a local club in Holland, he has also played for various clubs in Holland and Australia. Sander has completed a Bachelors Degree in Social & Cultural Education and has over 10 years experience in working with children, teenagers and adults in disadvantaged communities.  He now resides in Cairns with his lovely wife Sonya and their three children.
Sander co-ordinates all our school clubs, Little Goslings and Childcare programs, as well as being a senior coach in the academy. His coaching style is perfectly suited for JGFA and he always brings a positive and energetic approach to his sessions.
We believe that Sander's areas of expertise (being a father himself) is beneficial to all our players in the sense of having a great role model and someone who offers patience and encouragement – the very core of JGFA beliefs.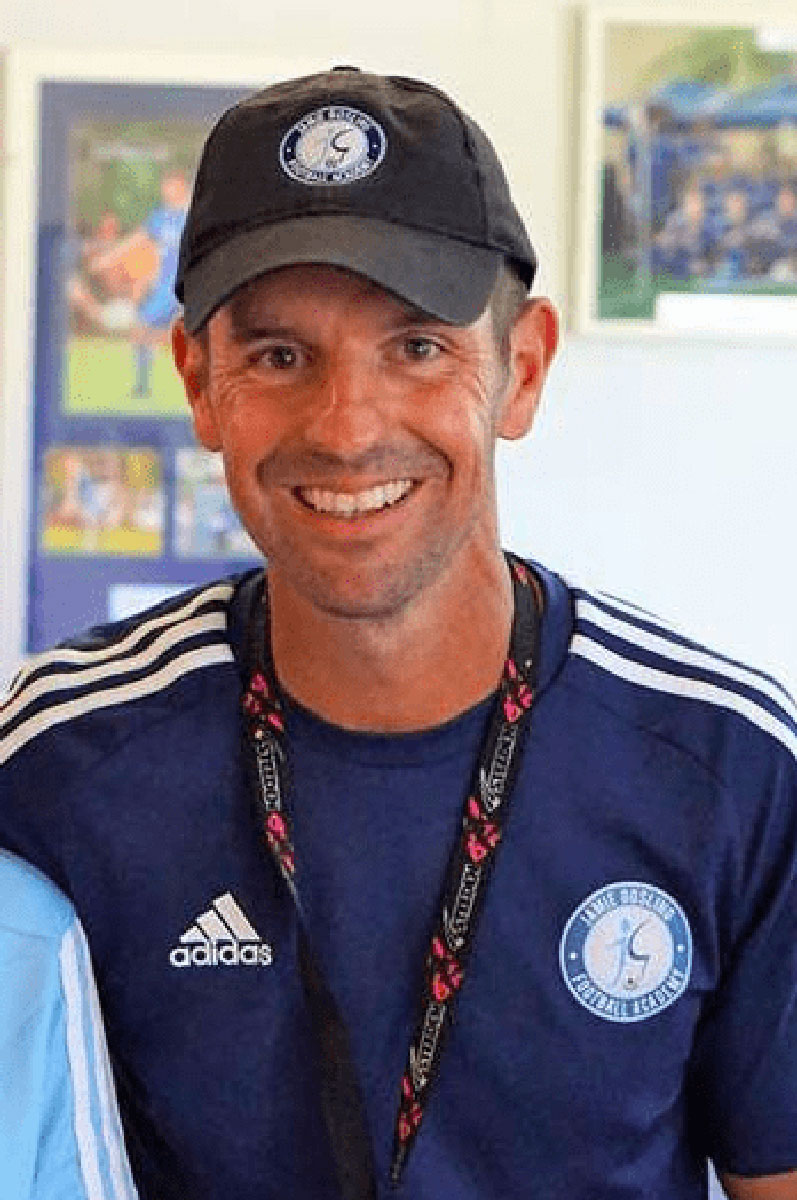 Alex – a former teammate of Jamie Gosling – has an amazing footballing pedigree and is one of the most qualified coaches in Australia.
Alex was a professional footballer for 17 years (1994-2011) in England, playing more than 500 games and scoring 55 goals, having started life at EPL giants Liverpool FC as a youth team player alongside the likes of Liverpool legends Robbie Fowler and Steve McManaman.
He played for 9 clubs from the Championship (one below the English Premier League) through to the Conference, and has passed his UEFA A Licence (only currently 1,400 coaches have gained this licence in England) and England Football Association Youth Modules 1, 2 & 3.
He also coached for 5 years with Championship side Bristol City from U10s through to senior professional players following the end of his playing career, before making the move to Australia.
DAVID MELLING
Senior Coach
David was born in Liverpool, England. At 16 David was playing at St Helens Football Academy after representing his home county and district. During his youth he had trials with various lower league and Welsh premier league clubs but chose to pursue his University Degree at 18 years old after some tough decisions.
In 2007 at aged 21, David decided to return to Football by spending 4 months in Accra, Ghana. David worked alongside under privileged local coaches and had the amazing opportunity to Coach at the Right To Dream Academy for 8 weeks. David got to help coach and teach some extremly talented players who have gone on to play for Ghana, LA Galaxy and Philadelphia Union amongst many more in Europe.
David only returned to play win local competitions but had the pleasure to play in games with some of his heroes such as Jan Molby, John Barnes and Ian Rush.
Fun Fact : In 2014, David was part of the Merseyside Nighthawks National Championship winning team as he ended his 4 year career in American Football.
Born and raised in Cairns, Hunter has been playing football since he was 4 years old.
Hunter is currently playing Premier grade for Leichhardt Football Club but has also represented Cairns in both the Felipo Mele and John Bombem Carnivals before representing Griffith University in the Uni Games.
Hunter has shined as a defender throughout his young career. Hunters achievements include two reserve grade MVP awards, reserve grade Most Improved  Player, Leichhardt Junior Player of the Year and Rookie of the Year in Griffith University.
As our youngest coach, Hunter brings a unique energy and passion for the game.
Born in Crewe, England. Martin had a ball at my feet since 5 years old, fell in love with the game and have been playing ever since.
Grew up in England, Germany and Northern Ireland due to my father being in the military and played for clubs in each country in addition to representing my school teams.
At 19 I decided to go to Manchester Met University and played at University level for 3 years.
After University I decided the allure of Australia was too much to resist and made the decision to try it out for a year. 10 years later I'm still here and am fortunate to still be surrounded by football and feel fortunate to be able to pass on my knowledge to the future stars of Cairns!