ARE YOU LOOKING FOR AN ACTIVITY THAT'S 'MORE THAN JUST PLAY' FOR YOUR LITTLE ONE?
You need to enrol them in the Little Gosling's Soccer Program!
Our team of coaches and our loveable mascot Mother Goose enjoy sharing a lifelong love of health and fitness with children. 
We not only love to get the kids laughing and learning with our engaging program, but strive to be positive role models to every child in our care.
Our interactive, dedicated program for under 5 year olds will teach your little one life-long skills that they can use on and off the pitch. The skills taught builds the foundation of teamwork, social skills, coordination and gross motor skills.
We pride ourselves on creating a happy, fun and relaxed environment where your child will learn dribbling, passing, game time and shooting. If you can make it, we invite all parents to come to our sessions and join in, or simply watch your child grow, in more ways than one, over the term.
ENROL TODAY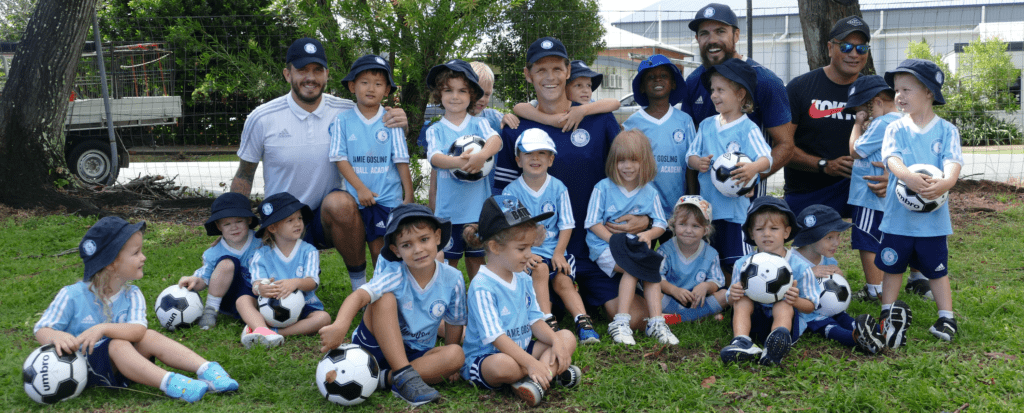 FREE

INTRODUCTION SESSION FOR YOU AND YOUR LITTLE ONE
On Wednesday January 20th 2021, we invite your family to the Holloways Beach Sporting Complex for a FREE Introduction session.
From 9am-10am we will have a meet and greet, games and of course… Mother Goose!
ENROL TODAY
We understand that each family has different goals, commitments and budgets, so we have four packages to choose from to kickstart your students into the Little Goslings Program.
PACKAGE 1
LGFA
$

20.00

per session

Pay as you go.

We understand life gets in  the way sometimes, if you can't make sessions regularly we offer "Pay as you go, although we recommend the term booking to get the full Little Goslings experience. 

ENROL NOW
PACKAGE 2
LGFA
$

120.00

for 8 weeks

Little Goslings sessions take place weekly from 9am-10am at:

Redlynch Catholic Early Learning Centre (Tuesdays/Thursdays)

Holloways Beach (Saturdays)

Choose your venue!

ENROL NOW
PACKAGE 3
LGFA
$

155.00

for 10 weeks

Little Goslings sessions take place weekly from 9am-10am at:


Redlynch Central Sports Stadium (indoors on Tuesday)


Holloways Beach (Wednesdays and Fridays)


Choose your venue!

Enquire Now
Want the Little Goslings Football Academy at your Daycare Centre? Click Here
"I have been extremely impressed every step of the way since joining my little boy up for Little Goslings. The sessions are very well organised, engaging, great fun, and teach not only ball skills but they are a great building block for working on both gross and fine motor skills. Sander and the other coaches do a fabulous job and I would highly recommend these classes to any little boy or girl looking to have some fun and learn at the same time!!"

Sarah

JGFA Mother
"Our son Tavish has been a Gosling for several months now and absolutely loves Friday football! Sander and the team have fascinating ways of engaging the children and maintaining their attention. It's great to watch! Tavishs's ball skills have bounded along and he is shaping up to be the next Messi!
Keep up the good work!"

Sarah

JGFA Mother
"Little Goslings provides a safe and fun way for our son to learn teamwork and exercise.
We enjoy watching our son make friends, laugh and build his coordination skills.
He really likes the coach's story time and fun games."

Maggie

JGFA Mother